Why Should You Choose Ceramic Window Tint For Your Office?
March 4, 2022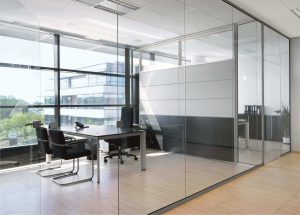 Most of you might be aware of all the different types of window tinting that are available and used for cars, homes, offices, and boat windows. Generally speaking, the most common materials that are used for window films are dyes, polyesters, and metal. Nowadays, there is a new option that is available in the market that is gaining popularity quite rapidly – BF film ceramic tint. Some of you might question the capabilities of ceramics as it is usually used to make opaque objects such as optics and electrical conductors. However, there are several reasons that point to the fact that this invention of technology has come up with the highest quality of window film at present.
Although it is more expensive as compared to other window films in the market, it saves you more money in the long run. Not only that, but BF ceramic window tints protect you from the harmful ultraviolet rays and decrease the chances of health problems. So, if you are looking for reasons to choose ceramic window tint for your office, here are some significant ones.
Privacy:
This type of window tinting provides you with a high level of privacy. By installing these films in your office windows, you ensure that you would deter intruders from looking inside and intrude the privacy of you and your employees. This particular tint is made with a durable material that is reflective on the outside but see-through from the inside, so you can see the outside clearly but you can't see inside from outside.
Protection from harmful ultraviolet rays:
One of the main reasons why many business owners and homeowners prefer installing BF ceramic window tints is that they block more than 90 percent of harmful ultraviolet rays of the sun. These rays are known to be so harmful that their constant exposure to our skin can result in several different kinds of skin diseases. In addition to that, ultraviolet rays also degrade and fade the interiors of your property, deteriorating your expensive upholstery. By installing these window tints, you would be protected from all these harmful effects of the sun.
Longevity:
Most of the low-quality and cheap window films tend to fade quite easily over a certain period of time, which negatively affects the overall appearance of your property, be it your home or commercial building. Moreover, due to this, they tend to lose all their protective properties. On the other hand, ceramic window tints don't fade as easily, and they last way longer than most of the other kinds of films that are available in the market. These window tints allow your property to keep its original appearance while keeping you protected from harmful elements.
Mentioned above were some of the significant reasons why you should seriously consider choosing BF film ceramic window tints for your office instead of any other window film. However, make sure that you find a reliable and highly reputed supplier in order to reap all the benefits.