PDLC Films
Electrically Switchable PDLC (Polymer Dispersed Liquid Crystal) film gives a wow effect to the interior of the office or home designs. Smart PDLC Glass Films can easily change the opacity from transparent to translucent or opaque to block various types of light instantly by switch or remote control.
Smart PDLC Glass Films were initially designed for security at high-level government installations, the main benefits of switchable privacy glass films are now available to the public for an infinite number of applications. This innovation will switch the brilliant PDLC glass film from a transparent state to an opaque translucent state with simple remote control. The technology creates accessible powerful spaces that can be both private and open simultaneously.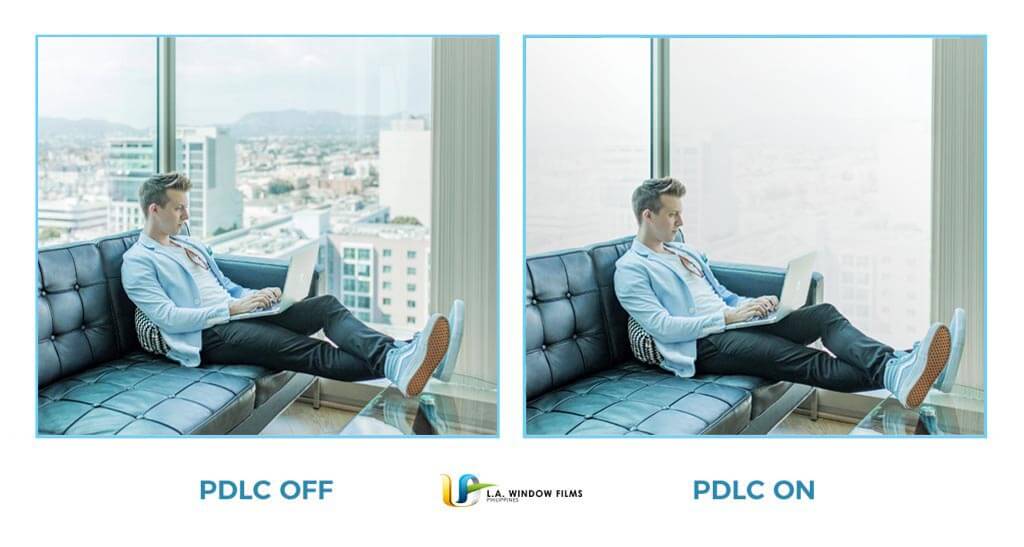 PDLC is also known as switchable privacy glass films, when switched off, liquid crystal films turn opaque and can be used to make space private, hence thousands of People are upgrading to Nano-Tech PDLC Smart Switchable Glass Films in the Philippines.
Here are a few reasons why thousands are upgrading to Nano-Tech Smart PDLC switchable films:
Controls lighting and energy usage
Unprecedented comfort and control
Hypoallergenic
No mechanical parts to fail
Reduces ongoing maintenance costs vs. motorized blinds
Protects by blocking 99% of UV rays
Compatible with existing glass windows
Enhances safety by preventing breakage
Utilizes just0.65 watts per sq. ft.
The Switchable PDLC Film is an imaginative innovation for covering your ordinary windows at home or offices. With advances in building innovation, various developments have helped us to make our office area and home lives more comfortable.
PRODUCT TYPES
Normal type: for laminated glass
Adhesive type: retrofit onto glass
DIMENSION:
Maximum size:1800*50000mm
Thickness: about 0.4mm
INSTALLING PDLC FILM:
SPECIFICATIONS
Instant ON/OFF switching from any conventional wall switch or remote control. Frosted to clear takes 100 milliseconds. Clear to frosted takes 400 milliseconds. (The blink of a human eye takes 400 milliseconds.)
Cuts UV exposure by 99%
Reduces solar rays by 42%
Consumes a minuscule 0.65 watts per square foot when switched ON (clear mode).
(That's less than a typical alarm clock LCD screen.)
Consumes 0 watts when switched OFF (frosted mode).
Amperage: 9.3 mA/sq. ft.
Operating temperature: -68°F to 140°F
Tested to 100,000+ ON/OFF cycles
Thickness: 0.48mm
Power requirements: 220VAC, 12VDC
Light transmittance: ON: 78%, OFF 7%
Haze: ON: 5%, OFF 78%
Choose LA Window Film today and ensure that you get the most aesthetically appealing as well as efficiently functioning switchable privacy glass films for your home, offices, hospitals, or factory. We also provide an onsite installation service of Smart PDLC Glass film with all the required accessories.