PDLC SMART FILM
INVISIBLE SHADE TECHNOLOGY
Initially designed for security at high-level government installations, the benefits of privacy-on-demand Nano-Tech electric window films are now available to the public for an infinite number of applications.
TRADITIONAL WINDOW BLINDS AND SHADES ARE NOW OBSOLETE.
Just a few reasons why thousands are upgrading to Nano-Tech PDLC switchable films:
-Controls lighting and energy usage
-Unprecedented comfort and control
-Hypoallergenic
-No mechanical parts to fail
-Reduces on-going maintenance costs vs. motorized blinds
-Protects by blocking 99% of UV rays
-Compatible with existing window treatments
-Enhances safety by preventing breakage
JUST PEEL, STICK, AND WIRE!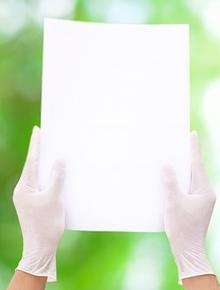 THE HIGH-TECH SOLUTION TO BORING.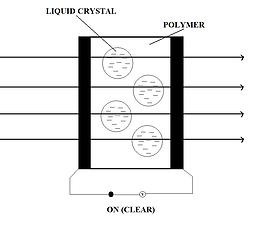 We enjoy manufacturing products that look more magic than science.
People often ask how our products seemingly defy the laws of physics.
Read on for a down-to-earth explanation of our wizardry.
THE TECHNOLOGY
Instantly switchable, dimmable, electronic privacy at the touch of a button.
Our proprietary PDLC (polymer dispersed liquid crystal) technology is nothing short of magical.
CLEAR MODE
When a slight electric current is applied, the liquid crystals in our products align to let light pass through.
​Clear when on, utilizing just 0.65 watts per sq. ft. That's less energy than most alarm clock displays.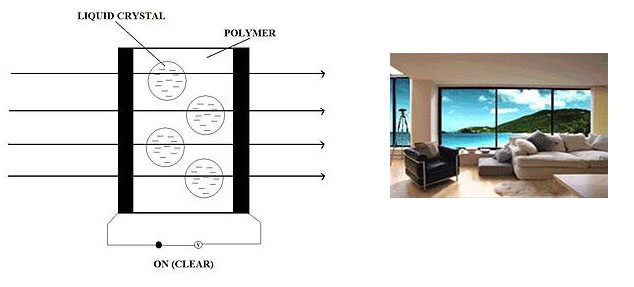 PRIVACY MODE
When no electric current is applied, the liquid crystals in our products orient themselves randomly, blocking and scattering light.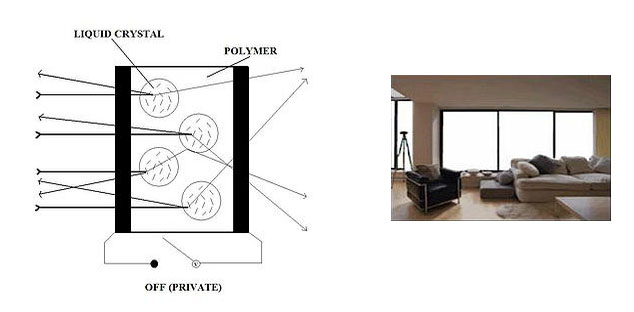 PRODUCT TYPES
Normal type: for laminated glass
Adhesive type: retrofit onto glass
DIMENSION:
Maximum size: 1,200mm x 3,000mm
Thickness: about 0.4mm Specifications
Specifications:
Instant ON/OFF switching from any conventional wall switch or remote control.
Frosted to clear takes 100 milliseconds. Clear to frosted takes 400 milliseconds.
(The blink of a human eye takes 400 milliseconds.)
Cuts UV exposure by 99%
Reduces solar rays by 42%
Consumes a minuscule 0.65 watts per square foot when switched ON (clear mode).
(That's less than a typical alarm clock LCD screen.)
Consumes 0 watts when switched OFF (frosted mode).
Amperage: 9.3 mA/sq. ft.
Operating temperature: -68°F to 140°F
Tested to 100,000+ ON/OFF cycles
Thickness: 0.48mm
Power requirements: 110VAC, 50/60 HZ.
Adapters for 220VAC, 12VDC, and other voltages available.
Light transmittance:
ON: 78%, OFF 7%
Haze:
ON: 5%, OFF 78%
Sizes:
Unlimited custom sizes available from every InvisiShade dealer,
up to 47.24″ x 118.11″ (1200mm x 3000mm).
Multiple sheets will need to be used on windows larger than these dimensions.